World Record of Diagnosis, Check-up, Medical guidance on Health Lessons
Dr. Shri Dattatreya Narayan alias Appasaheb Dharmadhikari Back
A mega camp for health awareness lesson was held at Dr. D. Y. Patil stadium on 20th December 2013 near Nerul, New Bombay. This mega camp was held by Dr. Shree Nanasaheb Dharmadhikari Pratishthan founded by most Respected Dr. Shree Dattatreya Narayan alias Appasaheb Dharmadhikari. The camp was held from 8.30 a.m. to 6.30 p.m. One Lakh fifty-two thousand patients were dignosed, treated and counselled while medicines and remedies were provided to all the patients. Notably enough the entire service was free of cost. A team 1571 experienced and Qualified doctors including ENT specialists, gynaecologists, diabetologists, cardiologists were assisted by another team of 5000 counters spread across. 16 counters were organizing the streamline flow of people based on the kind of required medical attention.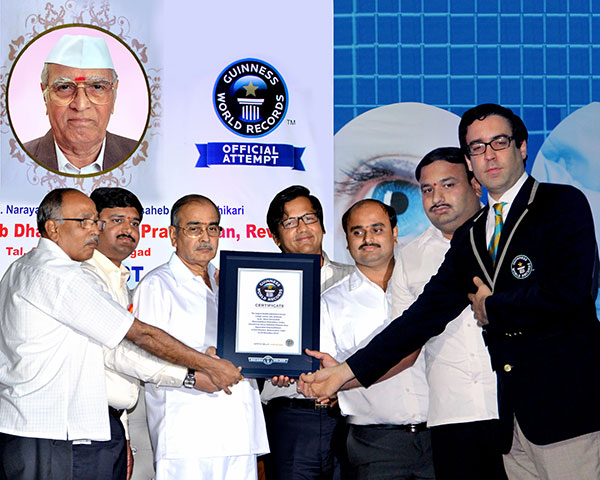 Dr. Shree Appasaheb through such awareness in men and women has accomplished innumerable goals of social reformation. The feelings of equality of religions and brotherhood have been generated within men and women by arousing an immense potential within everyone, through such potent teachings. Everyone was made aware of the potential consciousness lying dormant within. Dr. Shree Appasaheb's method in doing so is perfect and unmistakable. On the basis of this awareness men and women learnt the lesson of a disciplined conduct. Each member realized the bliss of humanitarian existence obtained by the purity and cleanliness of a human conduct. Such blissful existence is a practical experience for everyone in everyday life.
On receiving the news of this mega camp Mr. Jack Brock Bank representative of 'Guinness World Records' was personally present to grace the historic moment. He was present from beginning to the end of the camp. In the evening this noble activity made a graceful entry in to the 'Guinness Book of World Records'. The venue recorded attendance of 51,861 people within a sample time-span of 38 minutes. The last world record for a similar title was accomplished in Bangalore in the month of November 2012 with an attendance of 2061 people. In today's event it was close to 25 times larger than the previous on. In the evening Mr. Bank presented certificate to Dr. Shree Appasaheb Dharmadhikari with due regards, amidst an applause of appreciating audience.