Jadadguru Santashreshtha Shri Tukaram Maharaj Puraskar
Dr. Shri Dattatreya Narayan alias Appasaheb Dharmadhikari Back
Dr. Shri Appasaheb has immensely obliged the society by providing saintly teaching to the people. It has been an accomplishment beyond any comparison. The most important achievement of such awakening is to make men realize the strength and potential of the consciousness within each of us. This awareness has made it possible to make them further realize that human being is the only caste in a human society and humanity is the only religion. Dr. Shri. Appasaheb initiated thoughts of such human understanding in the minds of men and women in the congregations.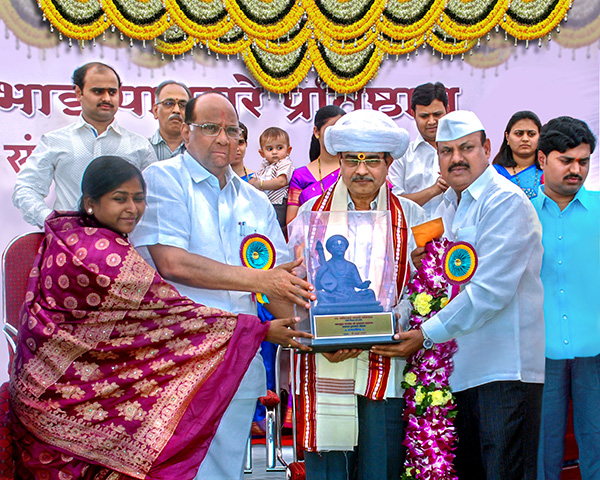 These thoughts of saintly wisdom have increasingly grown Dr. Shri Appasaheb's teaching has brought an integrated society into existence. He has taken immense efforts for the last four decades to eradicate ignorance. After rooting out all kind of ignorance from society Dr. Shri Appasaheb has laid a foundation of a religion of humanity everywhere. He has always refrained from the spotlight of fame while carrying out social awakening. Dr. Shri Appasaheb works with individual efforts combined with selfless approach. Dr. Shri Appasaheb has done this to illustrate through his guidance that great accomplishments can be achieved through simple methods.
Dr. Shri. Appasaheb's firm and extraordinary approach in attaining social awakening was noted with gratitude by one of the service oriented institution called 'Swargiya Fakirbhai Pansare Pratishthan' at Thergaon, Chinchwad and district of Pune. The institution humbly decided to honour the achievements of Dr. Shri Appasaheb appropriately. The trust decided to felicitate the great personality of Dr. Shri Appasaheb who through his awakening had inspired many individuals. On 28th February the trust made elaborate arrangements at Thergaon, Chinchwad to hold a historical event of felicitating Dr. Shri Appasaheb by presenting an award. Shri Appasaheb was awarded the maiden award of 'Jagadguru Santshrestha Shri Tukaram Maharaj Puraskar' and a citation. This award was given at the hands of Minister of Agriculture Shri Sharadchandraji Pawar. The award consisted of a cash of rupees the lakh, a memento, a cocoanut, a bouquet of flowers, a turban, worn as mark of respect for Shri Tukaram Maharaj and a citation. The event was attended by chairperson of the institute Shri Azam Pansare, Mayor of Pimpri Sou. Arpanatai Doke and many members of Shri Appasaheb's congregation.