Shiva Samarth Purskar
Dr. Shri Dattatreya Narayan alias Appasaheb Dharmadhikari Back
Respected Shri Dattatreya Narayana Alias Dr. Shri Appasaheb Dharmadhikari is a heir to the legacy of the most glorious tradition of social awareness. Respected Dr.Shri Appasaheb Dharmadhikari's father Dr.Shri Nanasaheb Dharmadhikari received this tradition of social awakening from his ancestors and before implementing it he moulded the teachings of this tradition to suit the demands of the time. He did the work of spreading social awareness for seven decades Dr.Shri Appasaheb accepted to carry the ideals of this abnegation for the last four decades implementing social integration in the truest sense. He has equally truly brought about secularism.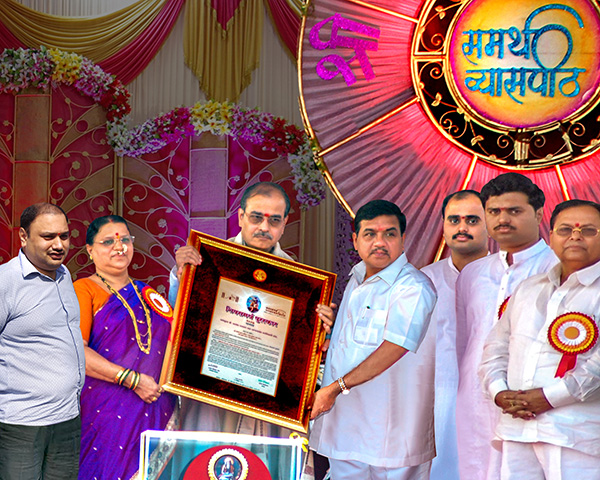 Dr. Shri. Appsaheb has achieved eradiction of blind faith by removing ignorance. He has carved an addiction free society, granted stability to adivasi life, enabled women to accomplish a place of respect, has removed dowry system, started children training centres and adult literacy centers to be run without grants or donations, has been inspiring youth towards a path of morality,nobility and has been promoting tree plantation. Dr.Shri Appasaheb has completely dedicated and devoted himself to achieve the ideals of social awakening to carry on this family tradition. Consequently a refined and well cultured society is taking shape under his guidance.
An institue of Pune, Samarth Vyaspeeth Pratishthan toog cognizance of this work and realizing the potentialities of this work as a work beyond common excellence, felicitated and honoured Dr.Shri Appasaheb at the hands of Hon'ble Deputy Chief Minister of Maharashtra Shri. R.R.Patil on 11th December 2007 with the award of Shiva Samarth Purskar. On this occasion many dignitaries were present on this dais. Hon'ble Minister of food and civil supplies Shri Sunilji Tatkare, Hon'ble Minister of Cooperative and Rehabiliation Dr. Patangraoji Kadam, Hon'ble Minister of excise Shri Ganeshji Naik, Acharya Shri Kishorji Vyas, President of Shri Samarth Vyaspeeth, Pune Shri Sunilji Chincholkar, national spokesperson of B.J.P. Shri Prakashji Javdekar, many MLAs and other dignitaries were present on this occasion. A huge gathering was present on this occasion. A helicopter was raining petals on Dr. Shri Appasaheb during the presentation ceremony.